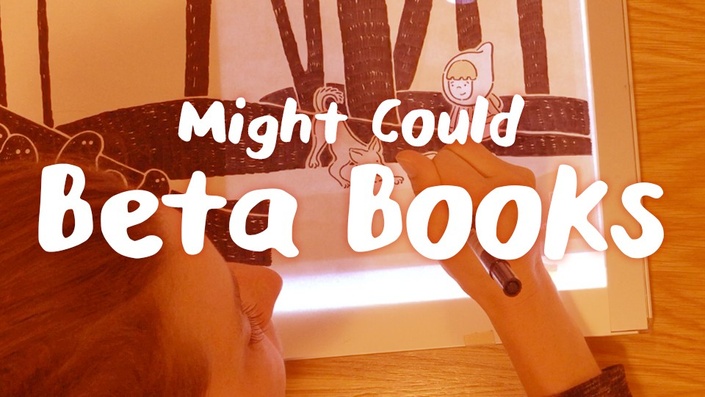 Might Could Beta Books
A Collaborative Experiment in Book Making
What is Might Could Beta Books?

Since 2012, I've been working independently as a freelancer. I've worked with over 50 companies, created over 15 courses, and taught over 40,000 students. In just 5 years, I've grown a one-woman business into a community of makers and creatives that love to draw, make art, and make books.
Traditionally, making a book is a very solitary business. You write in privacy, illustrate in secrecy, and submit alone with hope. I'm ready to move beyond that typical tight-lipped, buttoned-up approach, and ignite a new business model as an independent author and illustrator.
I experimented with releasing a beta book in January 2017 to great success. The feedback I received from my initial 20 beta readers (shout out to the founding betas!) was invaluable, and I don't want to miss out on that type of engagement and collaboration from fellow readers and book makers again.
And so, Might Could Beta Books was born.
But this isn't just about me getting feedback from you guys. I also hear common goals and challenges from you guys in our interactions. You want to make your own book, but you hit the same obstacles I do when trying to make a book. Over the past two years, I've been head down focused on the book making process, learning how to hurdle over those obstacles, making mistakes, experimenting with workflows, learning to embrace new paths, studying how inspiration happens, and just plain makin' books.
And now, I want to share it all with you.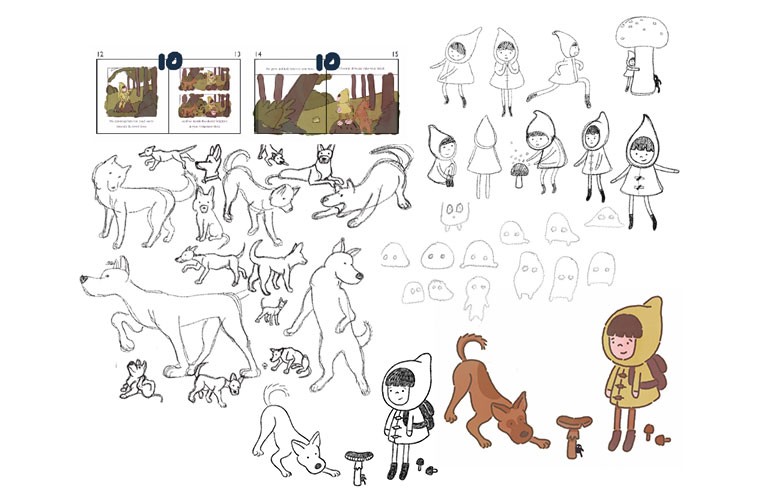 What You Get
Might Could Beta Books is a subscription based membership.
Once you become a member, you will have instant access to all my past uploaded process work, documenting my books from start to finish. This includes the original inspiration for the book, early book influences that help me define the feel of the book, research, references, initial manuscript drafts, revised manuscripts, storyboards, character development, refinements, sketches, final artwork, self-publishing tasks, and more. The forms of content will range from PDFs, JPGs, screenshots, time lapse videos, and whatever else pops up. The process work shared here is totally exclusive and not available anywhere else.
You also get access to our private Might Could Beta Books Facebook Group so you can give me your direct feedback as the book progresses. This is where I will announce new updates, you can give me feedback on the current book, share your own in-progress books, and just chat and ask questions! Updates will happen once a week, but I'll be hanging out in the Facebook group chatting more often!
This community is starting with my current book, We Are Fungi, but will continue on after this book is launched. As time goes on more books will be created, with the full process shared from start to finish. All posts will be organized and available for access at any time.
PLUS! The names of all members during the month of each book launch will be included at the back of the book as a thank you and acknowledgement of our collaboration and your contributions to the book.

A Publishing Experiment
If you're a regular reader of my essays, you'll know that I love bucking norms and that I aim to forge a new career path for indie author/illustrators. I'm using this community as an experiment to collaborate with you (the readers and makers!) on my entire book making process for this book and future books.
If you want to go fast, go alone. If you want to go far, go together.
–African Proverb
I'm done hiding my work, waiting for the chance to get my books out into the world. I want to release my books in the wild, and I want to see where you and I can go together.
The internet has allowed for more collaboration and connection between makers and users than ever before. We can now get instant feedback on our projects, and use that feedback to make more informed decisions, pivot when necessary, and create the strongest project possible.
My newsletter has been a great way of connecting with you all—and will continue to be!—but this is taking that connection a step deeper.
And this isn't just about engaging with me. You'll be able to connect with each other in this community as well. It's a platform for ongoing learning. We'll all learn as we go through this journey together.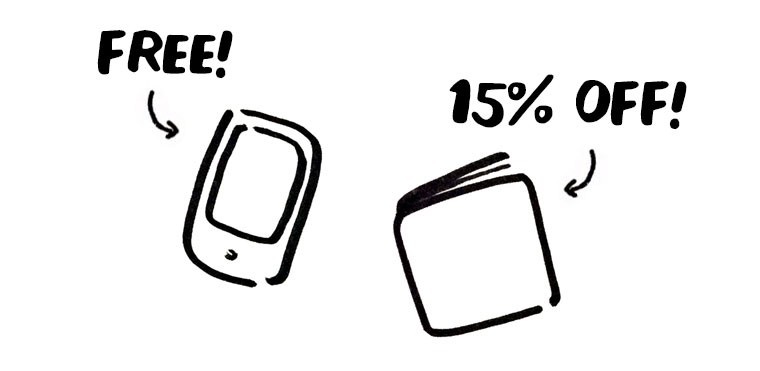 What About the Book?
I will be releasing We Are Fungi (and hopefully all my future books) as a free ebook available on my website to anyone once it launches.
As a Might Could Beta Books member, you will get to see the book develop from first sketch to final book. You will automatically receive a free copy of the ebook when the final book is released. I'll be able to release the book free because of the support from you guys!
Once launched, the book will be available for purchase as a print book on my website as well. As a beta member, you will receive a coupon code for 50% off the print version of the book if you would like a physical copy.
And don't forget! The names of all members during the month of each book launch will be included at the back of the book as a thank you and acknowledgement of our collaboration and your contributions to the book. You're also free to opt out of this if you'd prefer.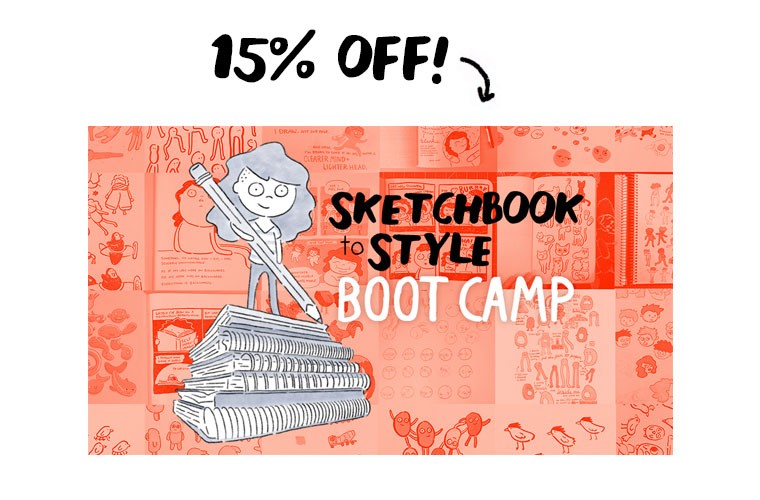 What Else? You Got a Bonus for Me, or What?
Of course! You'll also receive a 15% off coupon that can be redeemed on any of my self-hosted courses, like Sketchbook to Style Boot Camp (which *hint hint* might be having a surprise open enrollment soon!). That's up to $75 worth of savings! This coupon can be used on any course I release on this platform, for as long as you're a member.


Stretch Goal Bonuses
For every 100 subscribers I will donate a print version of one of my books to one of the following and make a video documenting each donation:
Local library/school
Little Free Library
Milk + Bookies
First Book
Your Instructor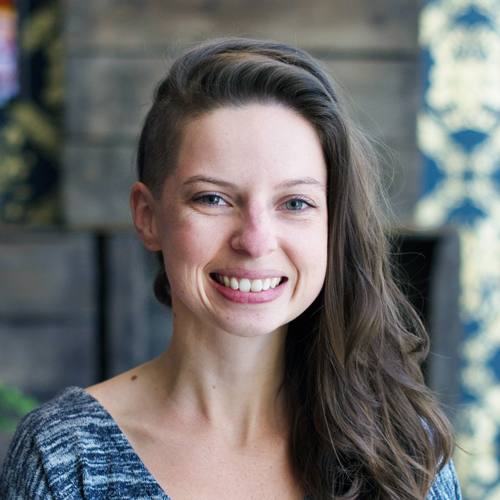 Hallo! I'm Christine, illustrator and writer at Might Could Studios.
I make books and comics, and I love to draw! I've worked with over 50 companies, created over 15 courses, and taught over 40,000 aspiring and established artists, helping them learn new skills, grow more confident, and develop their unique artistic styles.
I've been drawing for over 20 years, working independently for 5 years, making books for 3 years, and now I'm finally putting my books out into the wild. My core beliefs are that art is good, books are good, sharing is good, and we should all make more books together. I want to encourage you to make your book, and help you get it out of your head and into the world. Let's do this!

The Book Schedule
One of the downsides to the traditional publishing route is that it takes forever to make a book. Beyond just the time it took you as the creator to write and/or illustrate book, the publishing side of the process moves extreeeemely slowly. If you signed a contract today, your book wouldn't be on shelves for at least another year.
With this indie publishing experiment, I could make books much quicker! I could finally get all those book ideas out of my head, out of manuscript zone and dummy mode, and into actual books.
For now, I aim to launch and publish one book each quarter, though of course this could change as the experiment progresses. My overall book schedule will look something like this, starting now:
2017 Q3 September: Publish book #1: We Are Fungi
2017 Q4 December: Publish book #2 (see curriculum above for future books!)
2018 Q1 March: Publish book #3
2018 Q2 June: Publish book #4


The Nitty Gritty
You will be charged when you become a member, and then once a month after that (unless you sign up for the annual plan, which saves you $$$).
You can cancel your membership at any time, and you will not be charged for any future months
I will be uploading new process work once a week (plus you have instant access to all previous week's uploads):

Files and descriptions of all the work I've done on the book so far
Original, in-progress and final artwork not released anywhere else
Time lapse videos to see my drawing process
You can request anything specific you'd like to see in the Facebook group
You will be alerted when new updates are posted in the Facebook group

We'll collaborate in the book making process

Online forum community through our private Facebook group to give me feedback on the book
Respond to what I post, give me feedback on how it's going
Suggest changes or edits

On anything from grammar, fact checking, misspellings, weird things, wording that doesn't make sense, or overall feel

Share your own work or book progress and chat with other makers
Frequently Asked Questions
When does this thing begin and end?
It's happening now and will go on indefinitely! I plan to keep this going for a long time, but you can drop out whenever you'd like and you won't be charged again. No matter when you join, you'll have access to all the content all the way back to the first post.
How long do I have access to the course?
You have access to everything for as long as you're a member.
What if I am unhappy with the membership?
I'm not offering a refund since this is an ongoing subscription, but you are free to cancel your membership at any time and you won't be charged again.
Do I get access all at once or do I have to wait?
You get access to everything the moment you enroll, with new content being added every week!
I'm an amateur artist/writer/illustrator. Is this subscription for me?
Yes! I believe everyone can and should make a book, and I would love to share my process with you, and collaborate together.
Do I need to have anything to use this membership?
Nope! Just your login for this site when you sign up and internet access.
Will the content go over how to publish a book?
Yes, I will be talking extensively about my choice to self-publish, and how I'm going about it from which printers I use to what price I choose, as well as other options I've considered that you may want to pursue. I'll also be getting your input on how I should proceed!
What if I want to traditionally publish my book?
That's great! I'll be talking about and answering your questions about that route as well.
I have another question that you're ignoring! Who should I ask?
You can email me (Christine!) directly at: christine@mightcouldstudios.com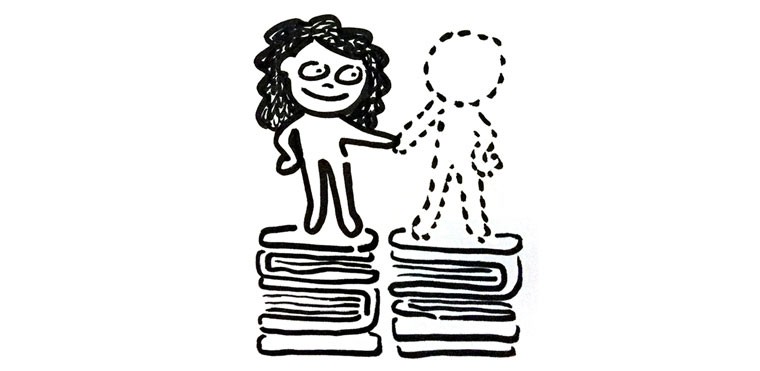 Let's Do This!
I want to use this experiment to make books that align with my principles and goals. I want to create a beautiful, conversation-sparking book, that is available to everyone no matter your financial or geographic status. I want to challenge myself and the book as an art form. I want to give back when I can. And above all, I want to connect and collaborate with you.
I hope you're as excited about this as I am, and I can't wait to keep going down this book making journey together!
So c'mon! Let's make more books!
This course is not open for enrollment.