What is Might Could Beta Books?

Since 2012, I've been working independently as a freelancer. I've worked with over 50 companies, created over 15 courses, and taught over 40,000 students. In just 5 years, I've grown a one-woman business into a community of makers and creatives that love to draw, make art, and make books.
Traditionally, making a book is a very solitary business. You write in privacy, illustrate in secrecy, and submit alone with hope. I'm ready to move beyond that typical tight-lipped, buttoned-up approach, and ignite a new business model as an independent author and illustrator.
I experimented with releasing a beta book in January 2017 to great success. The feedback I received from my initial 20 beta readers (shout out to the founding betas!) was invaluable, and I don't want to miss out on that type of engagement and collaboration from fellow readers and book makers again.
And so, Might Could Beta Books was born.
But this isn't just about me getting feedback from you guys. I also hear common goals and challenges from you guys in our interactions. You want to make your own book, but you hit the same obstacles I do when trying to make a book. Over the past two years, I've been head down focused on the book making process, learning how to hurdle over those obstacles, making mistakes, experimenting with workflows, learning to embrace new paths, studying how inspiration happens, and just plain makin' books.
And now, I want to share it all with you.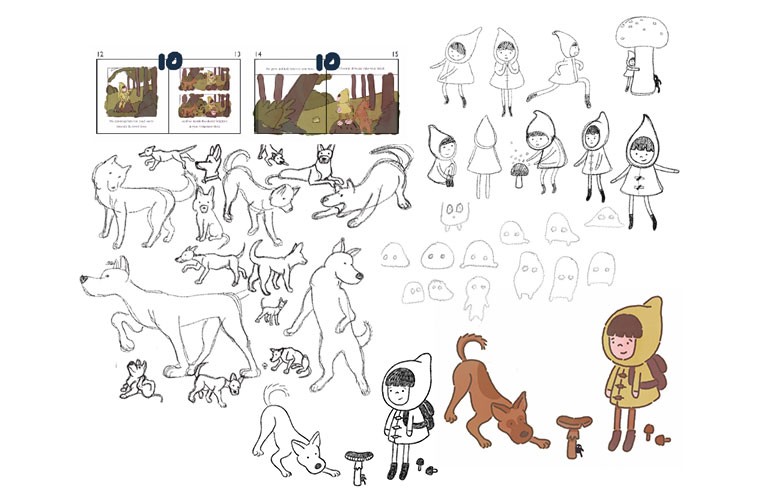 What You Get
Might Could Beta Books is a subscription based membership.
Once you become a member, you will have instant access to all my past uploaded process work, documenting my books from start to finish. This includes the original inspiration for the book, early book influences that help me define the feel of the book, research, references, initial manuscript drafts, revised manuscripts, storyboards, character development, refinements, sketches, final artwork, self-publishing tasks, and more. The forms of content will range from PDFs, JPGs, screenshots, time lapse videos, and whatever else pops up. The process work shared here is totally exclusive and not available anywhere else.
You also get access to our private Might Could Beta Books Facebook Group so you can give me your direct feedback as the book progresses. This is where I will announce new updates, you can give me feedback on the current book, share your own in-progress books, and just chat and ask questions! Updates will happen once a week, but I'll be hanging out in the Facebook group chatting more often!
This community is starting with my current book, We Are Fungi, but will continue on after this book is launched. As time goes on more books will be created, with the full process shared from start to finish. All posts will be organized and available for access at any time.
PLUS! The names of all members during the month of each book launch will be included at the back of the book as a thank you and acknowledgement of our collaboration and your contributions to the book.